A conventional acoustic panel tries to absorb or diffuse sound waves... to take away.
The Altmann Acoustic Panel is a Reflection Panel.
It is designed to CREATE a great sounding acoustic reflection.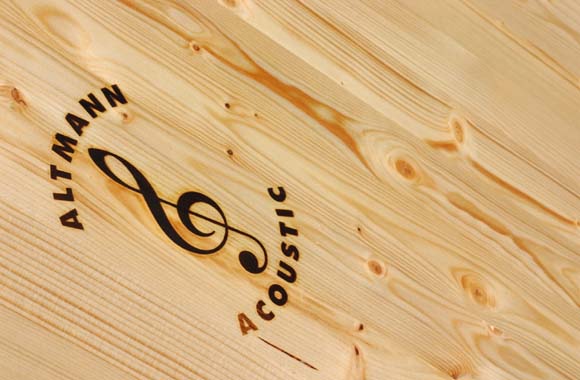 The Altmann Acoustic Panel is the foundation of every great sounding room, whether it is used for recording, listening or live performances, as it offers vibrational alignment for any acoustic event.
The material is solid spruce wood, with a smooth surface and treated both sides with a special blend of all-natural ingredients including - among a variety of oils and resins - fossil amber.
The combination of high-quality wood and special treatment gives the panel a vibrational- and reflection-characteristic that matches the Mother-of-Tone character, the ear's own character after which all sounds are evaluated.
The nominal size of the Altmann Acoustic Panel is a golden section 80 x 50 cm (31.5 x 19.7 inch) with a 19mm (0.75 Inch) strength, and about 3.5kg weigth.
The Altmann Acoustic Panel comes complete with wall-mounting hardware, blank or with predrilled mounting holes.
Every original Altmann Acoustic Panel displays the Altmann Acoustic Clef Brand in the top-left corner of one side.
The Altmann Panel and Acoustic Room Design
The Altmann Acoustic Panel greatly facilitates conventional acoustic room design for one simple reason:
You start with something that SOUNDS GREAT right from the very beginning.
An acoustics engineer is not tempted to overdampen a room that already sounds great.
Unlike bad-sounding stone- or gypsum- walls, a room fitted with Altmann Acoustic Panels does not leave much work to do for the acoustics engineer, as the panels already have fine-tuned absorption and dispersion characteristics.
Altmann Acoustic Panels are designed to sound great.
Applications
Applications of the Altmann Acoustic Panel include:
Recording Room
Make studio-recordings sound better, and the recording artists perform better as they feel better.
Listening Room
A highly effective treatment for all kinds of listening rooms. Will most likely make you want to sell your digital room correction processor ;-)
Concert Halls
Of all musical genres. Every Altmann Acoustic Panel can be seen as a musical instrument of top quality. Excellent sound leads to excellent musical performance.
Broadcast Room
Highest broadcast sound quality and wellbeing-factor, with less narrator fatigue.
Speaker Baffles
Take two Altmann Acoustic Panels, install two vintage radio speakers, and you're through with HiFi.
Speaker Construction
The premier construction material for loudspeakers that are expected to sound good.
Prices and Ordering
Attention: This product is currently not available due to manufacture capacity limitations.
In other words: You know the kind of wood that is required (spruce), you know the size of the panels (80x50), and you know how to make your own lacquer.
So, what's the problem?
Make your OWN PANELS !!!