Welcome to the Altmann YBV High-Performance Studio Reference Microphone.
The Altmann YBV unites the rich and full sound-signature of large-diaphragm studio condenser-microphones with the precision, speed- and transient-response of high-performance measurement mics, combined with previously unachievable timbre-accuracy, superlative-sensitivity and ultra-low noise.
A triple acoustic element with a proprietary filter design, enclosed in a specially treated 36mm wooden sound-board, self-contained transformerless, capacitorless signal-path and direct-drive balanced output circuit to be 48V phantom powered.
The Altmann YBV microphone is eminently suited for highest quality sound recordings in recording-studios, broadcast-stations, podcast-, live-, conference-, field- and nature-recording, creation of ultra-high-quality samples, as well as scientific and measurement applications.
Its small size makes it especially useful in situations where a large diaphragm microphone would be in the way of camera focus and/or too bulky for useful desk real-estate.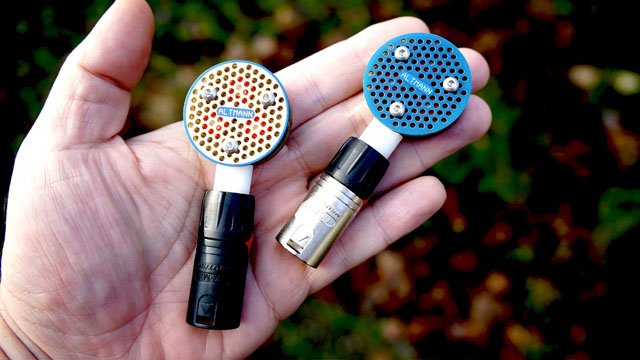 Preliminary Specification
Orientation: side addressed
Acoustic Principle: triple-element pressure-microphone contained in 36mm wooden sound board
Directional Pattern: omnidirectional
Electronics: triple JFET impedance-converter
Sensitivity: -18dB re 1V/Pa, 126mV/Pa
Frequency Range: 10 - 20.000 Hz
Signal / Noise: > 86dBA SPL
Output Connection: 3-Pin XLR Neutrik, balanced output between pin 2(+) and pin 3(-), pin 1 ground
Power Supply: 48 Volt Phantom Power
Power-On Warmup: 60 seconds
Dimensions and Weight: 95 x 83 x 20 mm, 50 g
Origin: made by ALTMANN MICRO MACHINES in Germany


Designer's Statement
The Altmann YBV is a novel-design microphone that includes three separate small-diaphragm capsules spanning up an area similar in size to that of a large-diaphragm condenser microphone. This layout enables the YBV to create a similarly big sonic impression, but with more precision and faster response compared to conventional large-diaphragm microphones.
The Altmann YBV's output level is 3..10 times higher than that of conventional condenser microphones when subjected to the same sound pressure. The YBV's three precision signals (generally in phase) are summed up, however at the same time the inherent noise (generally stochastic) cancels itself out.
This makes the Altmann YBV a highly desirable microphone when ultra-high sound quality, absence of noise and unrivalled faithfulness to the acoustic event are required.
A recording engineer generally chooses a microphone according to the specific application and sonic requirements. A secondary channel with the Altmann YBV microphone is able to provide a witness to what's really going on 'in the air' as the complete informational content is delivered as a reference which is eminently suited for inclusion into the final artistic product.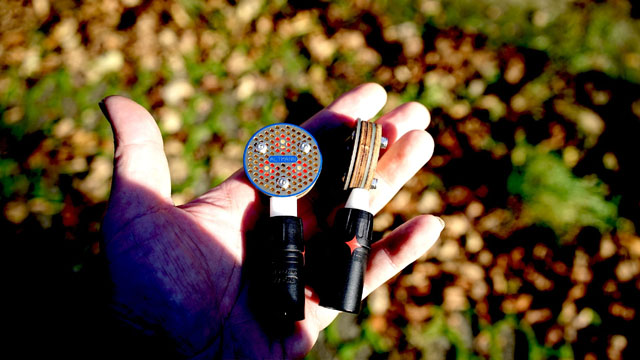 Altmann YBV Microphone Models
Altmann YBV-B: blue dispersion-grille
Altmann YBV-G: gold-plated dispersion-grille and contacts
Ordering
All Altmann YBV microphones come with K&M fastening clip.
Stereo sets come with wood/leather box (artificial leather, no animals hurt)
Prices include worldwide shipping with tracking number.
If you would like to have a spider with your Altmann YBV, please send an email with your order.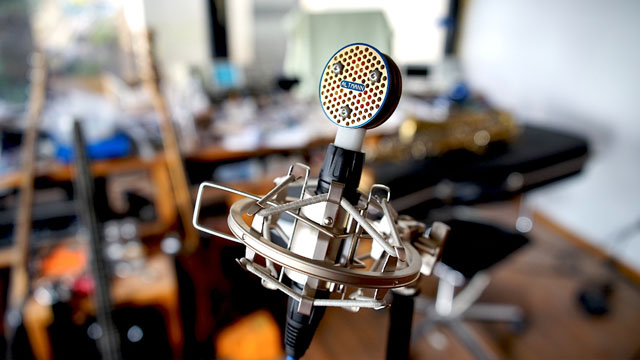 Demo
This fun track (click on pic) was created from a single C1 sample recorded with the Altmann YBV-B shown below.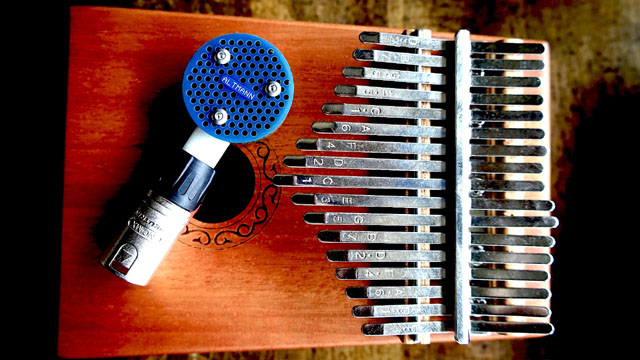 Altmann YBV-G Stereo Set