The BYOB Amplifier
If you have read the previous chapters you will not be surprised by the looks and the design of the BYOB - Bring Your Own Battery - Amplifier, as it is just the application of a fundamental concept:
Good sound is the absence of distortion mechanisms.
As well as happyness is our basic nature and is present as long as deteriorating conditions are absent, a good sound is nothing but the avoidance of distortion mechanisms.
So let's take a look on the special features of the BYOB amp:
Conforming to the Vibration & Character chapter the BYOB amplifier has no enclosure, and thus no enclosure resonances. If you knock on it, you won't hear trashy sounds. Just the musical sound of a solid spruce board, that is lacquered with natural wood resin.


The circuit board is small in relation to the spruce board and it is tightly fixed flat on the board, so it cannot vibrate in its own fashion, but is connected to vibrate with the - Mother of Tone - character of the lacquered spruce board.


Board sits on 3 lacquered spruce feet.


The power source is a single 12V car battery sporting independece from noisy mains current and HF rectifier bursts, as explained in the Air and Current chapter.


All connectors directly soldered to the circuit board -> no cable / wiring effects.


Nittiy gritty features of the BYOB amp:
About 2 x 10 Watts of Power into 8 Ohm or 2 x 20 Watts into 4 Ohm or even more into 2 Ohm.


Wima coupling caps.


Volume control with black anodized aluminium knob.


Blue LED indicates operation and charge status of battery (bright with full battery, off below 10 Volts battery voltage.


Power switch and 10 Amps fuse.


Gold plated connectors for input (RCA) and output (banana / cable).


Polarity proof power connector.


Specially treated spruce-board from sustainably managed forests.


5 years limited warranty


Made in Germany



Price and Ordering Info
The Altmann BYOB amplifier comes EUR 3000,- including 5 years guarantee, quality battery cable (shown below), manual and worldwide shipping.
Please order your Altmann BYOB amplifier through this email.
Restauration to original specification
This applies to BYOB amplifiers that have been modified by a previous owner or third party and need to be returned to their original performance standard. EUR 1500,-
Performance
The performance standard of the Altmann BYOB amplifier IS A PERFORMANCE STANDARD.
Power
The BYOB amp sports 2 x 10 W into 8 Ohm respectively 2 x 20 W into 4 Ohm and even more into 2 Ohm. This high power-level is achieved through bridged operation. That means, both channels are internally bridged by design.
The Altmann BYOB amp is an audiophile amplifier, not a stadium PA amplifier. The power level is more than enough for home use and small to medium parties.
One channel is able to drive 3 'Voice of the Theatre' speakers in parallel. In other words, with the proper speakers (i.e. 6 VOT's) you'd be able to power a disco with it.
If you have high-efficiency speakers you can listen very very loud. Remember that the BYOB is battery powered and thus is not afraid of a speaker's impedance dip. The power is delivered instantaneously.
If you have low efficiency speakers, you don't want to listen very loud anyway.

Batteries
The next time your car battery needs to be replaced, don't throw away your only source of clean power. If it can't turn your car's starter motor anymore, it is still perfect to be used with the BYOB amp.
I personally use a 10 years old Optima Red Top starter battery, which is a non-spillable high-quality high-performance battery. With one charge I can enjoy extensive listening for 2..4 weeks.
For charging, I use a standard battery charger. Most of you already have a car battery charger. If not, it's not expensive and a good thing to have... Good chargers are available from Einhell.


Battery Charge and Sound
An interesting feature of the BYOB amplifier is that the sound character is related to the battery charge. With a fully charged battery the sound is tight with explosive dynamics (can't get that with any other amp), while with a low battery charge the sound character resembles that of a no-feedback amplifier, very laid back and relaxed.
However, regardless of charge level, you will notice the absence of distortions that you were unable to identify or even name before.


Experience Oneness
Another interesting sonic character of the BYOB amp is that of integrity. The musical performance will reach you undivided and intact -> AS ONE. You will know what I mean when you listen to it.


Applications
1) Audiophile Ecstasy
Ultra-Audiophile performance, ultimate precision, natural sound with explosive dynamics, uncompromised groove.
Standard version is hi-gain, tube-o-latored. Lo-gain version also available.
Easily driving low impedance speakers.
Signal path length: 10cm (4 inch) from input jack to speaker post.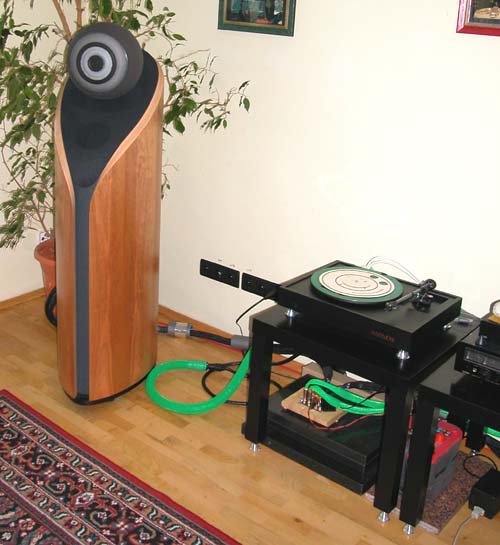 2) Driving Headphones
Unrivalled sound quality on headphones.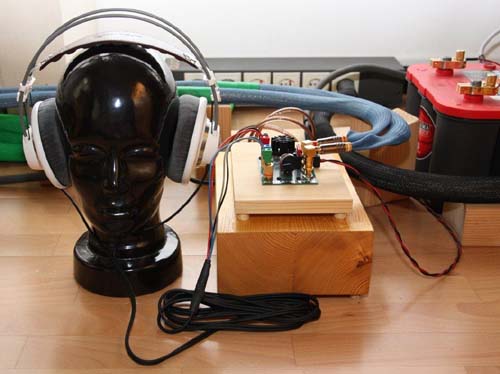 3) Recording and Mastering
The Altmann BYOB is the most transparent amplifier, at least on this planet.
You will encounter the true dynamics as well as the tiniest harmonic detail of your recording project.
Absolutely uncolored sonic performance, independence from noisy mains, extreme precision and freedom of sonic signatures. Rack-mountable versions with 2/4/6/8 channels available.
Reviews

It's simply the best sound I ever heard
Not comparable to anything else...
I cannot believe my ears, really
A view-of-flesh-and-blood that is hard to beat
Furz trocken mit brachialer Dynamik
What could be better than that ?
Dynamic, fast, structured, clean, sweet, very revealing
.........und der BYOB amp ist noch nicht mal eingespielt !!!!!!!!!!
The music of our souls and the universe
Am liebsten würde ich gar nicht mehr aus der Wohnung gehen
I can confirm what others have been saying - it is excellent
What fantastic sound right from the start!
Alles klingt so wie es klingen soll
Better than anything I have owned before
The sound: whole, balanced, organic, engaging
It was such a shock to hear such a system
Beim Thema Verstärker bin ich angekommen
I have to say I am really impressed
The Altmann Micro Machines have landed!
Plugged it in and turned it on, boy is it good straight out of the box
Yes I more than like it, I love it.
Much better than all my previous gear
Records, CDs, tapes, EVERYTHING


Recent BYOB amplifiers

Above is a BYOB amp for Kristoff Becker, maker of the Electric Cello. The features are: standard power, transparent sound and spruce volume knob.
This is a BYOB amp made for Cabasse Austria. Speaker research in its purest possible form. Features are: High-Power-Dissipation, tube-o-latored, standard aluminium volume knob.
Altmann Micro Machines … Dipl.-Ing. Charles Altmann… Erlenstrasse 15… 42697 Solingen… Germany
phone +49-212-233-7039… email
Other Altmann Sites: www.jitter.de www.altmann.haan.de www.amm.haan.de

AMM reserves the right to make changes without further notice to any products herein to improve reliability, function or design.