The Altmann Attraction DAC is a complete DA converter solution with exceptional sound quality and unique features.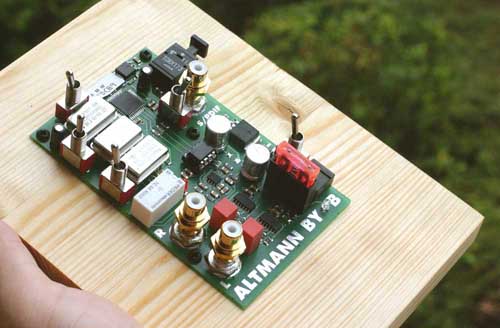 It operates on CD (44.1kHz), DAT (48kHz), DVD-A (88.2, 96, 176.4 and 192kHz) sample-rates, without the use of oversampling.
It features switchable optical and coaxial digital S/PDIF inputs.
The digital input signals are recovered with extremely low jitter as they are generated by custom made voltage-controlled crystal-oscillators (VCXOs) and employ the UPCI (Ultra Precision Clock Injection) technology.
A switchable JISCO-function (Jitter Scrambling Decorrelator) further increases sound quality as jitter-components from the DVD-A or CD player are decorrelated before being ultra-precision-filtered.
The practical outcome of this setup is a level of sound quality that is unrivalled.
Sample-rate can be selected by two toggle-swtiches.
A lock-detector mutes output by sending zero-data to the DAC plus shorting analog outputs to ground, in order to prevent pop-sounds, when invalid data is received. Lock-status is monitored by a red LED.
Digital to analog conversion is performed by a R2R converter operating on true sample-rate (no oversampling) and true sample-values. This means, that the data on the disc (input data) is converted sample-by-sample with high precision and without altering any data. No DVD-playback machine can do this.
The Altmann Attraction DAC is today's only digital playback machine, that can play high sample-rate material in true fidelity and transparency, as it plays the true data-on-disc sample-by-sample.
The high integration of unique features was achieved by the development of a special digital receiver-chip (Altmann R16).
The elaborate analog and powerful output-circuitry is similar to that of the much more expensive Altmann Superlative DA Converter and employs ten high-quality Burr-Brown operational amplifiers.
Like the BYOB amplifier, the complete electronic assembly of the Attraction DAC is vibrationally optimized, as the pcb is flat-press-mounted on a specially treated spruce-board. This construction is time-consuming during manufacture, but improves sound quality, as all components are mechanically coupled to a musical sound board.
Digital input and analog outputs are high-quality RCA connectors, that are directly singal- and ground-soldered to the pcb.
The Attraction DAC is designed to be powered by a single 12V car- or motorcylce battery, as battery power is pure, and a prerequisite for precision DA conversion. Power consumption is 200mA.
The unit is reverse polarity protected. Battery status is monitored by a blue power-LED.
You may load the user manual here.
Options and Prices
This is the leading edge of thought, sound, joy and well-being.

The performance standard of your ALTMANN ATTRACTION DAC is A Performance Standard.
Every Attraction DAC comes complete with battery connection cable and a 5 years limited warranty.

CD-only 44.1kHz sample-rate SPDIF
This is the basic Attraction DAC for CD-only (44.1kHz) playback. Includes UPCI jitter filter and coaxial (RCA) digital input. EUR 3000,- incl.5 years limited warranty and shipping.
CD & DAT & DVD-A 44.1 / 48 / 88.2 / 96 / 176.4 / 192 kHz sample-rates SPDIF
Switchable sample-rates for CD, DAT, DVD-A, etc... playback. Includes UPCI jitter filter and coaxial (RCA) digital input. Add EUR 650,-
Optical input
update 11/21: Original Toshiba Toslink receiver upgraded to higher sensitivity version. With this new version larger transmission distance (up to 100m) is possible with standard plastic fiber.
Original Toshiba Toslink optical digital input (tested up to 192kHz) added to the coaxial (RCA) input. Digital inputs are selectable / muteable with toggle-switch. Add EUR 150,-
JISCO function
Switchable JISCO function (Jitter Scrambling Decorrelator) added. With this feature, you will get high-performance audio quality even with the cheapest CD or DVD-A players / transports. We now ship the Attraction DAC with the JISCO MKII technology which features a higher scrambling frequency compared to previous models. For more info on the JISCO technology visit jitter.de. Add EUR 650,-
Upgrade from JISCO to JISCO MKII is possible EUR 300,- plus shipping.
Restauration to original specification
This applies to Attraction DACs that have been modified by a previous owner or third party and need to be returned to their original performance standard. EUR 1500,-
Applications
1) Audiophile ecstasy
It grooves, it punches, it sings, it's one, it's real, it's got it all and it runs up to 192kHz.
Signal path length: 4cm from DAC to RCA analog output.
2) Mastering & Recording
Top of the world jitter processing combining UPCI (Ultra Precision Clock Injection) and JISCO (Jitter Scrambling Decorrelation) techniques -> for more info on that see www.jitter.de.
True sample-per-sample DA conversion from 44.1 up to 192kHz enables you evaluate your recording and not the sonic faults of your current DA converter. The Altmann Attraction DAC is the world's only digital playback machine with static non-oversampling DA conversion up to 192kHz.
No calculations, no averaging, and no 1-bit noise involved, but straight down conversion with a full scale output of +/- 5Volt.
OSS Ultra low Latency System: One Single Sample definitely helps keeping the groove.
That means: From digital input to analog output latencies are:
0,022 ms @ 44.1 kHz
0,010 ms @ 96 kHz
0,005 ms @ 192 kHz
Mains independent noise-free battery operation. Optical and coax digital inputs.
Make your virtual instruments sound like real instruments.